Rodney C. Adams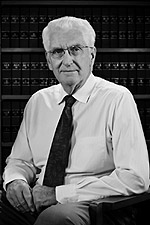 Serving Oregonians for more than 50 years
A former City Attorney for Beaverton, Rod is one of the most experienced lawyers in Oregon. He has helped clients through nearly every conceivable family law and estate planning situation. He provides unparalleled legal counsel and guides your decisions based on half a century of expertise. A veritable wealth of knowledge, he can answer your questions regarding trusts, wills, probate, divorce, guardianships and conservatorships, among other issues. Rod will give you an honest assessment of your situation and work hard to find favorable conclusions.
Focus:
• Estate Planning
• Wills
• Probate
• Real Estate
• Guardianship & Conservatorship
• Landlord-Tenant agreements
• Business Law
• Family Law
Admissions:
• Oregon State Bar
• U.S. District Court, District of Oregon
Member:
• Washington County Bar Association (President, 1968)
• American Bar Association
• Oregon State Bar (Member, Committee on Professional Repsonsiblility, 1972 – 1982,
1987 – 1989; Treasurer, Real Estate Section, 1980)
Personal:
After graduating from Willamette University College of Law in 1960, Rod joined the firm of Castles & Musick. In 1965, he became a name partner at Thompson & Adams. From 1965-70, Rod served as the City Attorney for Beaverton. He has also been the attorney for Tualatin Hills Parks & Recreation for almost 50 years.
In 2010, Thompson & Adams formed a partnership with Ravello & Nguyen to form the Beaverton Law Group.
Rod celebrated his 50th wedding anniversary in 2010. He maintains a close relationship with his family and enjoys travel and golf.
ISLN: 909541819
To schedule a free, no-obligation consultation call (503)-644-2146 or email today.