Cecilia Nguyen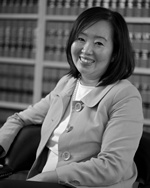 Committed to Service and Honesty
Cecilia Nguyen has become a go-to lawyer and consultant for those seeking unique services and creative solutions. She understands her clients are deeply affected by their legal issues and takes personal satisfaction in representing their interests as if they were her own.
Cecilia caters to small businesses and families with emphasis on family-based immigration petitions, visa applications, deportation and removal proceedings, citizenship laws, alimony, child custody, paternity and divorce cases. Also, she focuses on benefits or government issues affecting employers and employees.
Focus:
• Family Law
• Immigration and Citizenship
• Employment Law
• Business and Contracts
Vietnamese: Cecilia is one of the few attorneys in Oregon fluent in English and Vietnamese and can assist Vietnamese clients in most forms of law.
Consulting: If you have a small business, Cecilia can provide counseling regarding contracts, employee issues, business formation and other related matters.
Admissions:
• Oregon State Bar
• U.S. District Court, District of Oregon
• U.S. District Court, Northern District of Illinois
Personal:
Cecilia graduated from Tulane and the Loyola School of Law in New Orleans before earning an L.L.M (Master of Laws) in Information Technology and Privacy Law from John Marshall Law School in Chicago. After graduating in 2000, she worked for the Labor Unit of the Illinois Attorney General's Office representing clients in state and federal court.
While working for the Attorney General, she represented the Illinois Department of Labor in civil prosecutions, responding to discrimination charges with the Equal Employment Opportunity Commission and managing union grievances.
She moved to Oregon in 2003 and has handled wage-and-hour class action suits; represented and counseled clients in divorce, child custody, alimony, and paternity cases; represented numerous clients in obtaining and/or retaining their green cards and defended clients in immigration court deportation and removal cases. She has advised, counseled, and represented small businesses and non-profit organizations in matters relating to employee-employer relations, discrimination and harassment complaints, leases, vendor contracts, business formations and many other matters..
Cecilia currently serves on the Board of Directors for the Tigard Public Library and the Tigard Library Foundation.