John E. Uffelman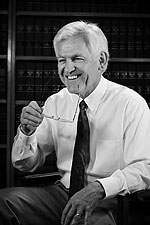 Admitted to practice in Oregon and Washington
Experienced and dedicated, John Uffelman built his practice upon personal and professional referrals. He has helped hundreds of clients receive financial compensation for injuries sustained due to the negligence of others and also helped defend clients in high-profile criminal cases. You can rely on John's wide-ranging experience. Since opening private practice in 1973, he has been the lead attorney in several high-profile cases, including several involving the death penalty.
John has received positive verdicts for clients in trials and civil matters, including: wrongful death, personal injury, insurance fraud, medical malpractice and business securities. He has also prepare numerous clients preparing wills, trusts and estates.
Focus:
• Personal Injury
• Medical Malpractice
• Catastrophic Injury
• Auto Accidents
• Criminal Defense
• Civil and Commercial Litigation
• Insurance Disputes
Admissions:
• Oregon State Bar
• U.S. District Court, District of Oregon
• U.S. Court of Appeals for the Ninth District
• U.S. Supreme Court
Personal:
A graduate of Gonzaga University and University of Oregon Law School, John opened his first private practice in The Dalles in 1973. Two years later, he moved to Portland where he served for seven years as a Washington County Deputy District Attorney and prosecuting major cases like homicide and felonies. In 1982, he opened a private practice in Washington County and eventually partnered with Rodney Adams in 1996 to serve the greater Portland metropolitan area.
Married for nearly 40 years, John focuses on volunteer activities and his family. All four of his children graduated from prestigious universities: the United States Air Force Academy, Santa Clara University, University of Notre Dame and Gonzaga University.
At various times, John has been involved with Gonzaga University President's Counsel Board, Pacific Coast Outward Bound School, Sunset and Jesuit high schools, St. Pius X church and the Catholic Youth Organization (CYO). He also has served as an associate editor of the Oregon Law Review.
ISLD: 901897198
To schedule a free, no-obligation consultation call (503)-644-2146 or email today.